All Posts
New Level System Launched
The Beginning of Forever Levels is here
When DuckDice launched in 2016 the regular Level system that is represented with duckies' "paws" - although we are assuming not many know that they are actually duckies' paws #funfact - was already in place. This is a dynamic level system where only top players get a level. At the moment only top 2150 players have a level. Here is the distribution:
This level system is highly competitive and unforgiving to those who are willing to take a prolonged break from gambling. Since we are very proud of our community and we are probably one of the few services where players who saw our launch can still be seen here on a daily basis, we decided to make a "recognition level". A system designed to be permanent and friendly, a system, that will recognize our oldies even if they don't feel like wagering tons and having an active level.
And here it is

How the new system work?
There are 10 stages of your overall account progress. We called those Newborn, Rookie, Amateur, Advanced, Pro, Master, Grand Master aka GM, Elite, Grand Elite, and the ultimate level - Legend. Please don't mock our titles too much, but feel free to mock a little. The progress stage depicts where you are in comparison to all other ducklings, every player is included in this ranking.
The progress equals wager, as usual in online dice. But in this system, your wagered amount does not amortize, does not get degraded, discarded, or diminished in any other way. Whatever you ever wagered on DuckDice is forever yours and will be accounted for in this level system.
That said, yes, you already have a new level, that is probably why you are here, reading this. We've counted all historical wagers of every player and already assigned a corresponding level to you. You can check your level in your profile and you can check others' levels based on their logo frame and on their player info page.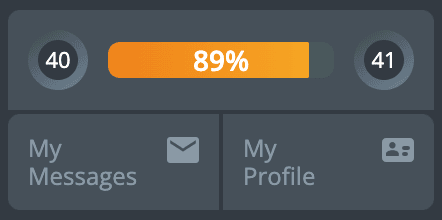 What does this all mean?
At this stage, it is merely a recognition level, it does not affect your game or bonuses or give other perks. But give us some time, and we will add some meat to this new and shiny level of yours.
We appreciate every returning player and would like to give a token of recognition in a form of this new level. Hope you like it.